Issue
: If a calendar visitor shares a link from a calendar events with Facebook friends, the permalink Trumba generates gets stripped out when they try to share the link on Facebook. The shared link does not actually link to the event page.
Additional Information
:
This is a known issue with Facebook and Trumba is dependent on Facebook to fix the issue on their end. We have reported it to Facebook and hope that they will correct the issue over time.
To summarize the issue. When a user adds a Facebook link to an event permalink URL like this:
http://www.krl.org/i...u...&view=event
it is incorrectly transformed to the following URL which is not valid:
http://www.krl.org/i...u...&view=event
There is a work-around although it is a bit tricky:
When you post a link, it gives you a preview of the link that will be posted as shown below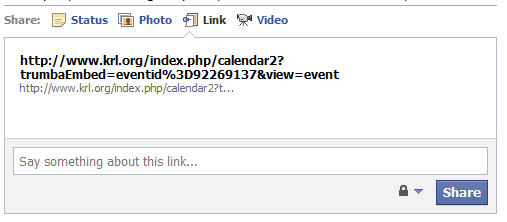 You can then fix the URL by clicking it and re-pasting the correct URL to get the correct result: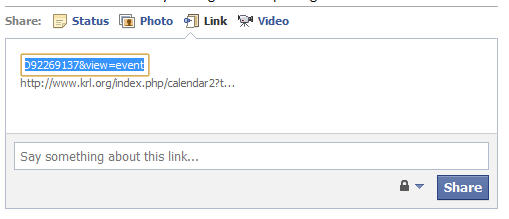 Thanks,
Steve