Trumba allows you to use your own custom registration icons for "Sign Up", "Wait List" and "Event is Full" buttons. Because you customize buttons on a calendar-view-by-calendar-view basis, each view can use its own set of buttons if you like. We have also updated additional calendar views to allow support for these buttons, however these calendar views do not currently support event registration buttons: Classic Month, Classic Multi-Week, News, Map, and Linear Grid.

You are familiar with the default/basic registration buttons such as "Sign Up":





You can now enhance your calendar views and create a more visible registration button for Sign Up, Wait List and Event is Full. Here is an example of a custom sign up icon in use by the Classic Table calendar view: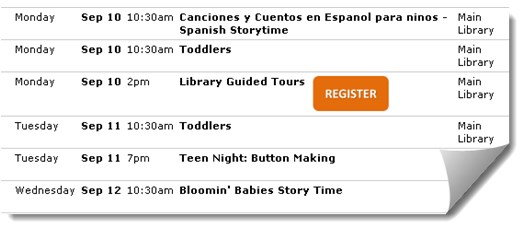 For additional information, please see our help topic on How to customize open registration buttons.