The
Location Search Control Spud
can now be set up for either miles or km.
To set this up, first select the published calendar on your account so it has a black check mark next to it. Select
Publish>Publish Settings tab
and then click
Edit Publish Settings
. Under the
Publish Settings
section locate the
Distance unit of measure
. If you want the Location Search to default to kilometers select the km option and click
OK
.

On the Control Spuds tab, set up the Location Search spud and it will default to km.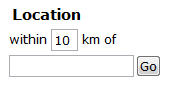 -Steve